Message from Mom, June 2013
Hi Son,
How can it be that 6 years have passed since I sat with you at Drew's birthday party, then later sat and talked into the night……I miss you. How did I not know that time counted in hours would change every aspect of my life, leaving a hole in my heart that won't heal? The phone call from your sister telling me you couldn't be found should we call the police? Yes…I'm on my way to you, hours of driving with thoughts of finding you and asking why did you worry us, what were you thinking? Me determined to find you and ask, knowing that together we could figure out any problem, we could find solutions…..never thinking that six years later I'd still be searching, wanting so badly to bring you home. I think you know, you know that I'm looking for you, that I won't quit, that even as I search for others that need to be brought Home you are there with me. I've wondered over the years would you approve, and God gifted me with peace that allowed me to know that you do, and some days I can feel a special warmth that lets me know you're close, and on those days I can see your smile, and hear your "oh mom" as you laugh, cause I should know you would. I knew your heart, but didn't always understand your pain.
I miss you,
Mom
---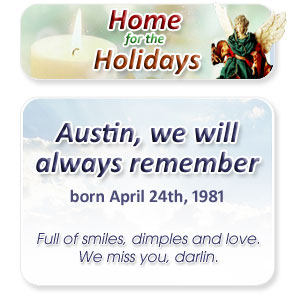 Last Seen June 26th, 2007
Jacksonville, Florida
DOB: 04/24/81
Height 5' 8" / Weight 180 lbs.
Brown Hair/ Blue Eyes/Left Handed
Scar on right cheek / Dimples
Jacksonville, FL, October 18, 2007 – Jacksonville Sheriff's Office has released information regarding the disappearance of Michael "Austin" Davis, 26, from his Westside home on the morning 0f June 26, 2007.
"We now know," said Anita Sullivan, sister of the missing man, "that Austin's mysterious taxi ride ended at Jax Jewelry and Pawn Shop at the intersection of 103rd Street and Blanding Boulevard around 12:30pm on June 26th.
JSO has confirmed Austin bought a shotgun there and the clerk said he put the gun in a duffle bag and left the shop on foot."
We have searched the area but found nothing". "The pawn shop clerk said the gun barrel was protruding from the duffle bag when he left the shop. As busy as that area is midday, we think it is likely someone saw him and would remember something as unusual as a young man walking on Blanding or 103rd with a gun in a duffel bag", the missing man's sister said.
"We are hopeful someone will come forward, possibly with information regarding his direction of travel and help us target other areas to search", Anita Sullivan said.
Anyone who may have seen a man walking with a duffle bag on the afternoon of Tuesday, June 26 in the area of Blanding Bvd. and 103rd Street, which includes Wesconnett Blvd., Timuquana Road, Jammes, and surrounding areas, is urged to step forward.
He may have been walking in any direction, and may have been seen on side roads up to several miles away from the intersection. Anyone with information is urged to contact the Jacksonville Sheriff's Office.
IF SEEN Please Contact:
*JSO Missing Persons Unit 904.630.2627
Family: 904.446.0740

Email: FindAustin@iticomputers.com

Read More